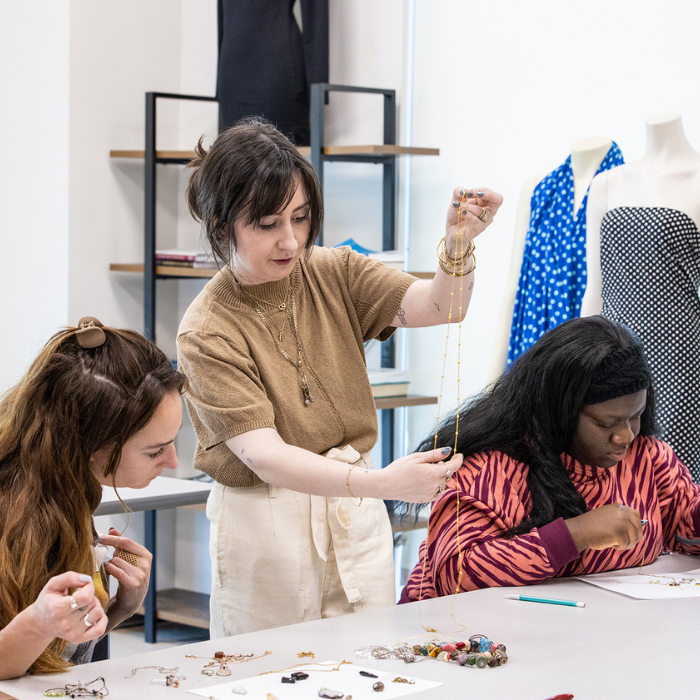 Giving back and inspiring others is a core value of mine, so when a friend and professor at the Community College of Philadelphia approached me about teaching a workshop, I was honored and excited about the opportunity! The workshop was hosted by the Fashion Merchandising, Marketing Retail department (which I actually volunteer with, as a board member!) 
The workshop was structured in four parts: the first was a panel discussion focused on sustainability in the industry as well as different approaches to working in the field. I invited Ellyse Bendillo, fellow Philadelphia jeweler and occasional part-time worker for Stone Cooper, who specializes in restoration and enameling, to join.
The second session was a zoom lecture I hosted, where we outlined the history of jewelry, differences in metals and materials, the intricacies of value and pricing, as well as a bit about my background and the journey of my company. One of my favorite questions from a student was about the types of jobs in the mineral and jewelry world; we were able to think of dozens!
The third workshop was a site visit to our beloved stockist, Ali's Wagon, located in Fairmount near the college campus. Students got a chance to tour the shop and learn how we merchandise, display, and sell in a retail setting. 
The final workshop was held at the college, and students got a chance to either redesign a piece of their own, or create earrings, a necklace, or a keychain. We touched upon the fundamentals of beading, wire-wrapping, and jewelry design using pliers, wire, jump rings and headpins. I brought my personal collection of vintage charms and components for students to use, and we discussed the value of reducing waste and upcycling materials. 
All in all, it was a huge success. I loved getting to engage on various platforms, and highlight multiple aspects of my business. I am so grateful for the opportunity to be able to share my love of adornment and craftsmanship with others, especially the next generation of creatives.