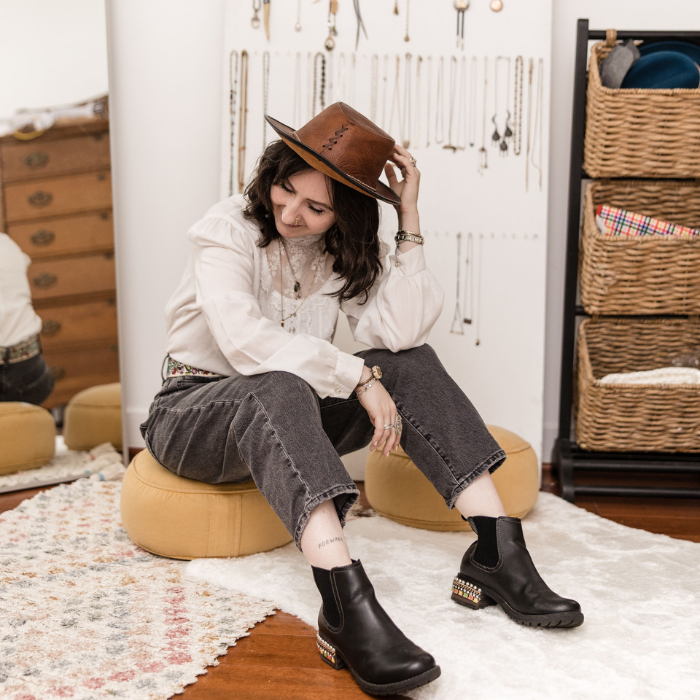 I started Stone Cooper shortly after graduating from Skidmore College in 2013. I grew up making and loving jewelry, and worked at two different bead stores starting at age 15. I fell in love with the notion of wearing jewelry to hold meaning, to represent something larger or sentimental, and loved creating my own jewelry with intention and lots of symbolism. Since I minored in metal-smithing in college, I spent one summer interning in NYC's diamond district. That exposed me to the fine side of jewelry, as well as behind the scenes of manufacturing and selling.
After graduating and going back to work at the bead-store while applying to graduate school, I decided to launch a small jewelry business to keep my creativity and love of silver-smithing afloat. People had always asked me if they could buy my creations, so I thought it made sense. I took night classes at a local art school in Northern NJ (so that I could use their torch!), where I had a professor who helped me round out my skills, as well as encouraged me to pursue my own business. I got a small line of pieces cast and started making charm necklaces and incorporating some beads and crystals.
A friend of mine made my Stone Cooper logo in her basement, and I launched my website at the very end of 2013. I did my first craft show that next spring, and started vending at them all over the tri-state area on most weekends. My success and passion made me question if graduate school was the right decision, and after three years of postponing it and working part-time, I decided to make Stone Cooper my full focus. It took me a few more years to even get comfortable saying that I'm a jewelry designer or that I own a jewelry company, since I truly do feel like I'm living my dream job every day! I moved to Philadelphia shortly after that, and partnered with several small boutiques that helped shape Stone Cooper to what it is today.
My business was started because of my deep love of adornment, wearing something to symbolize meaning. I started Stone Cooper not only because I love the physicality and creativity of designing and making jewelry, but because I love how jewelry can make someone feel. I love that my jewelry can empower someone, or make them feel more beautiful or badass or confident. 
In terms of style and craftsmanship, I love combining unique chains with natural gems and antique charms—something that I didn't see happening that much when I started. There were a few brands that I knew of, but not many, and certainly none in my price-range. I merged the worlds of traditional jewelry-making and ritual adornment with my eye and talent for collecting unique treasures, while keeping them on trend and youthful. Many of the chains and components I use in Stone Cooper are antique, vintage, or deadstock—which keep pieces unique (everything is made in limited quantities) and also sustainable, since reducing our environmental impact is something I care deeply about. I source all of my stones in-person, by hand, mostly directly from the people involved in mining them. This enables me to support other small businesses and companies I believe in. I owe a lot of my success to the relationships I've developed over the years, and am really proud of how I source our materials.
When I consider my business, and how far it has come, I can't help but think about all of the friends, family, and even acquaintances who have supported me since day one. Some of my first orders were from college friends or family members—or even friends of friends! Not to mention all of the loved ones who have helped sell jewelry with me at shows, model for photoshoots, or help design my logos. The word-of-mouth referrals and pride that my network took in Stone Cooper was instrumental in shaping both the company and my own confidence in what I was doing. One lesson I've learned is if you stay true to your passions, and open to opportunities and relationships, things will find a way of working out. I never thought I would have a job where I could combine so many of my passions—and for that I'm so grateful!