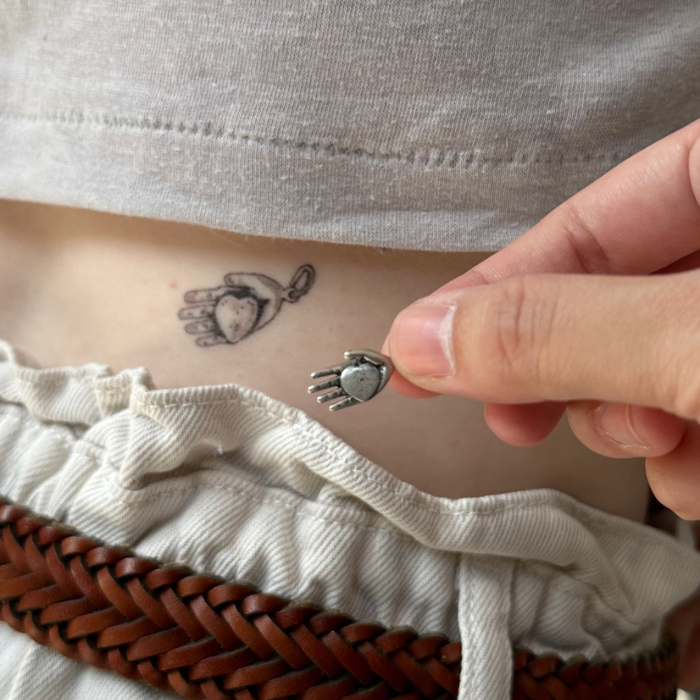 People often inquire about the origins and significance of my tattoos, sparking conversations about self-expression. Personally, I've always found a profound connection between tattoos and jewelry, both being expressions of ancient art and bodily adornment. To me, tattoos resemble permanent jewelry, and I have always felt empowered by adorning both on my body.
A few years ago, while placing an order at a local coffee shop, I couldn't help but notice the exquisite tattoos adorning the barista's skin. Impressed, I complimented her tattoos, and she graciously replied, "Thank you! I'm a tattoo artist. Your jewelry is beautiful too." It felt meant-to-be! Since this serendipitous encounter, Caitlin (affectionately known as @3rdpancake on Instagram) has skillfully hand-poked many of my cherished tattoos, while also becoming a loyal Stone Cooper follower and shopper. Now, bringing our crafts and brands together has been so inspiring and exciting.
We are so thrilled to announce this collaboration, where @3rdpancake transformed select pieces from Stone Cooper's Passage Collection into miniature masterpieces available as hand-poke tattoos. If you  wear a piece of SC jewelry to your tattoo appointment, you'll receive a $20 discount on your tattoo session. In addition, booking SC flash art with Caitlin entitles you to an exclusive 20% discount on any future Stone Cooper purchase once your deposit is paid.
To my Stone Cooper afficianados here in Philly, I can't recommend Caitlin enough if you're looking for an intimate and artistic hand-poke experience with a talented, mindful artist. You can find her flash sheets and booking information HERE.
I can't wait to see who gets Passage flash adorned on them too!
xo, Kat